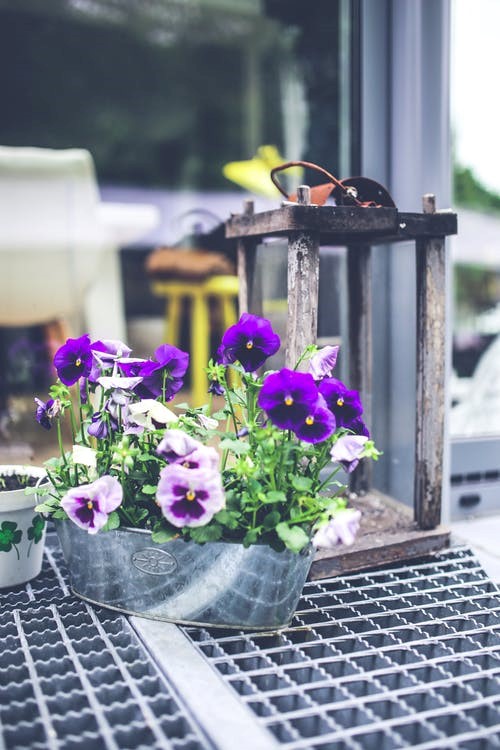 Ahhh… You walk outside and immediately feel Spring in the air. The birds are chirping, the air has that fresh earthy smell and the sun feels warm on you face. I don't know about you, but it fills me with energy! I want to scrub the long winter off everything and prepare to usher in summer. Of course, there is also that overwhelmed feeling I get when I look around and realize exactly how much spring clean-up will be needed! A quick look around the yard not only displays the remnants of dirty snow, but also the planters that never found their way to the hoop house, the plastic sheeting strip that blew loose from the chicken coop, the gravel sprayed 50 feet across the lawn from the snowblower… UGH!! And that's just scratching the surface of the outside chores! Spring cleaning involves a lot inside too!
I tend to start with the windows – as I did last weekend, because I am drawn to looking out a lot more often than I did in the winter (in search of sprouts and any sign of green!). Washing the windows leads to washing the curtains which leads to vacuuming the corners of the ceilings because I discover a spider web or two – and you can't vacuum the ceilings without realizing that you also have to vac the cold air returns. And you can't wash the windows without realizing that you have to wash every mirror and glass surface in your house. And if you're washing the curtains then shouldn't you also do all the bedding? You see how it goes! Inside spring cleaning tends to be what you do until you can get outside to do the things you really want to do.
Of course, there are also outside jobs that you may not really want to do either, but should be done. I have compiled a list of things to consider getting done as we move into the nice weather. Hopefully having a list to work at a little at a time will make it a little less overwhelming! After all, we want to be able to thoroughly enjoy the beautiful weather!
You may want to start with cleaning and putting out your outdoor furniture so that you have something to sit on when you need a break from all the work you will be doing. I would follow that with scrubbing the grates and getting your grill ready for the season because nothing satisfies a spring appetite as well as food from the grill!
As for the garden, it's still a bit too early to be digging around. – Unless it is to plant peas, lettuce, spinach and radishes. They all enjoy these cooler temps.  This is a great time to envision and plan that perfect garden though, and to start seeds for it indoors.
As for the house, walk around it and look at it as if for the first time. (This section has "home inspector recommendations" written all over it!) Was your walk around the house a little rough? Does your walkway need some attention or does your yard have low spots that need to be filled in to prevent pooling? Do you need to refresh the perimeter of your house with rock to reduce splash and improve drainage? How did your roof hold up to winter? Have you scheduled your chimney sweep yet? Are your gutters full of debris or in need of repair? Could the house/deck benefit from a power wash? This is also a great time to seal and stain the deck. Speaking of sealing, are you noticing spots that need to be filled to prevent pests from entering your home? How about the trim around the doors and windows? Has it been neglected like mine and need to be repaired and painted? And if you are lucky enough to have central air, now is a good time to service it to be sure that it will be ready for you once the days turn hot.
Just like it's too early to be digging in the garden, it's a bit too soon for most of us to be aggressively raking or working on our lawns as well since they haven't had a chance to really dry out yet. Pick up that fertilizer though and your pre-emergent herbicide for weed treatment if that's something you use because once those yellow flowers fall from the forsythia bushes, it will be time to apply it. – And if we are preparing for our best lawn ever, now is the time to tune up that mower and put on sharpened blades!
If we are having the blades for our mower sharpened, it stands to reason that now is a good time to clean and sharpen our other garden tools as well. This will allow us to clear any unwanted brush from the yard as well as cutting back dead foliage from last year's perennials and grasses before their new growth begins. As we clear the debris from the planting beds, it is a good time to test and amend the soil (which you could also do for your lawn if you noticed last year that you grew great weeds but sad grass) as well as refresh the mulch. And what should we do with the yard debris? Well compost (or learn to!) of course! – And since we are providing the birds with a readily accessible pile of items to use to build their nests, we should make sure that our birdhouses have been cleaned and our birdbath scrubbed and filled so that they have a welcoming place to call home. (Be careful with those birdfeeders though, since the bears are out wandering in search of food!)
Phew! Is that all? Unfortunately, no. I could probably go on and on, but this is a good start! If you realize that you need (or want) a professional to help with any of these spring chores, we have a fantastic resource page of trusted professionals. Check it out! https://premierhouseinspection.com/local-resources/
Enjoy spring! It took a long time for winter to pass, but it's finally here!