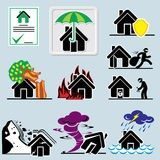 An interview with Lauri Cotter of  Financial Insurances Services, Inc. 
Being in the NH home inspection business, we have the pleasure of meeting with people on a daily basis who are in a state of transition. With the stresses of deciding to move, where to live, type of mortgage, how much to spend… We thought it might reduce some of the stress to have some commonly asked questions answered for you about the insurance aspect of buying a home.  Lauri Cotter, a Sales Representative for Liberty Mutual Insurance Company out of the Salem, NH office graciously offered to answer some of those questions for us.
What is the advantage of using an agent when sometimes you can find cheaper rates online? 
Using a local agent has many benefits over purchasing insurance online. An agent can help you evaluate the make-up of your home/assess your personal property to ensure you're adequately covered. An agent can make endorsement recommendations such as power outage protection, or water back-up coverage to ensure that in the event of a storm or other event, you can have peace of mind that you're protected. Online purchasing can be quick and convenient, but since the everyday person probably doesn't know exactly what they need, the internet might be offering a policy that's not tailored to specific needs. For a few minutes on the phone or in person with an agent, you can save yourself a lot of time and stress long term by having the right coverage.
Who decides on the type of homeowner's insurance I need? My mortgage company or me?
Depends. The mortgage company may have specific requirements such as deductible amount or liability coverage, but the home insurance limits should be determined by the amount it'll take to rebuild the home entirely if there was a total loss. Sometimes, the mortgage company will require the policy to cover the loan amount (which may be more than the replacement cost as home insurance doesn't factor purchase price or market value), but that's not always the case.
What exactly does a "homeowner's policy" cover?
Aside from unique endorsements that will vary from company to company, the standard components on a home insurance policy are:
Coverage A: Dwelling – coverage to rebuild dwelling after a partial/total loss
Coverage B: Other structures- coverage for other structures not attached to dwelling (garage, shed, patio, etc.)
Coverage C: Personal Property- will cover all of your belongings (flip your house upside down, and everything that falls out is considered personal property)
Coverage D: Loss of Use – will cover extra living expenses incurred by partial/total loss if you have to stay in a hotel/rent an apartment – limits will vary by company
Coverage: E: Personal Liability – provides bodily injury and property damage coverage up to policy limits, legal defense, covers in the event of a lawsuit
Coverage F: Medical Payments – per person limit for medical payments to guests who are injured on the property
How does where I live impact my premium?
Home insurance isn't just based on how big the home is or if it's made up of state-of-the-art furnishings. Where you live impacts the premium as the surrounding risks come into play. Proximity of a home to a fire station is highly factored into the premium because in the event of a fire, the amount of time it will take firefighters to get to the home is key as trying to stop a total loss is important.
What are certain everyday things in your home that can increase your premium?
Restricted breeds of dogs (Pitbulls, German Shepards, etc.), wood stoves, pools, outdated systems, residents that smoke, outdated home systems (plumbing, electric, heating)…
Are there exclusions that should be known?
Flood coverage caused by natural flooding is not covered on a standard home insurance policy- a separate policy through FEMA would need to be obtained. Basement flooding due to back up/fail of sump pump (similar system) is not standard coverage, but can be added as an endorsement. Loss caused intentionally will not be covered.
Are there any steps that can be taken to reduce your premium?
Update home systems (electric, plumbing heating), add home security system, update roof… Many insurance companies also offer multi-policy discounts, good student, and claims-free discounts.
Can you insure a home-based business?
In some instances, yes. You'd want to talk to an agent about the specifics to verify if your home-based business would qualify.
For those people who aren't quite ready for home-ownership, we also asked about renter's insurance.
Do you recommend renter's insurance?
Always. If you rent a home/apartment, the landlord's insurance policy will not cover tenant's personal belongings if there is a loss. This means, if there is a fire or if someone breaks into the home or something is accidentally lost and the tenant doesn't have renter's insurance, they will need to replace what's gone out of pocket. Also, if something is stolen out of a vehicle, the auto insurance policy will not cover the replacement cost. If you fit into this category, but you think you don't have enough "stuff" to insure, think about all of your clothes, shoes, furniture, etc. and what it might cost to replace all of it. For about the cost of a cup of coffee, you can protect your things each month.
 We sincerely thank Lauri for taking the time to answer these questions.  If you have more questions or would like to contact Lauri for any of your insurance needs, she can be reached at:
Lauri Cotter
Sales Representative
Financial Insurance Services, Inc.
194 Rockingham Rd. Londonderry, NH 03053
Phone: 603-432-6414