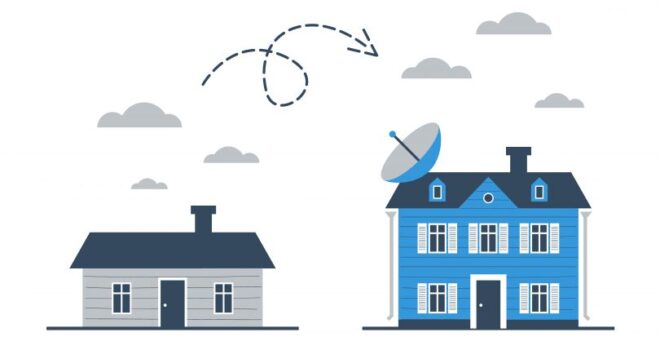 Growing up, many of us dream of owning a big house with a spacious lawn in a nice neighborhood. While this may be a dream, there might be a few reasons why you find yourself needing to purchase a home larger than the one you currently own.
Perhaps you need to upsize because your family is growing, or because you like the idea of the additional space. Regardless of the reason for buying a bigger house, the steps to take before doing so are often the same for everyone. Buying a house is one thing, but buying a big house is a different beast. Here's what you should think about while searching for a larger home.
Do the math
Are you comfortable with your current mortgage? If you are, it doesn't mean that a higher mortgage is going to be a walk in the park, even after you sell. Many real estate markets in the United States, including New Hampshire's, are hot. This usually leads to homes in the area selling for higher prices because more people are buying. A big house in an area where houses are selling fast can cost a lot of money.
First, look into how much you can realistically sell your own home for. Then, look into houses in the area that can probably be affordable on your income. Also, remember that mortgage payments aren't the only factor. You'll also have to calculate interest, taxes, and higher utility bills—heating and powering a larger home is much more expensive than doing so for a smaller one!
Understand the additional work needed
Let's say that you can comfortably afford to upgrade. Great! But, are you willing and able to put in the extra effort? First, make sure you cover your ground and get the home inspected. Larger homes are harder to maintain just due to the sheer nature of the fact that they have more space. Combine cleaning, fixing pieces that break or wear down, and replacing or renovating rooms and infrastructure and you've got yourself a pretty hefty project for the rest of your life. Inspecting the home first before committing to the purchase will keep you from running into hazardous living conditions like faulty electrical wiring and broken plumbing. Not only could it become dangerous, but will rack up the bills.
Are you already stretching yourself thin to afford the monthly bills and mortgage? Years of maintenance can and will put you in a financial jam that won't be easy to dig yourself out of. Remember, owning a home is a huge commitment, and the responsibilities will stay with you even into old age. When you retire and no longer have the physical ability to fix up and clean a large home like you may be able to now, can you afford to hire someone who can? The key is to think long term.
Be smart about the process
If you're in a place where you can comfortably afford a big house for years to come, then be sure to purchase one and sell your current one smartly. Hiring a real estate agent is always a necessity, but even more so when it comes to buying a bigger house, which can be a lot more expensive.
Additionally, if selling your current house, we always recommend hiring a home inspection company that is knowledgeable and reliable. Premier Inspection Services, LLC  has a phenomenal method of inspecting, and we also have a dedicated team who can make the process as easy as possible! Call us today!